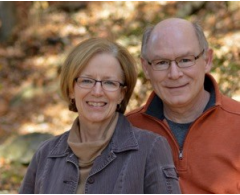 Michigan Association of Regular Baptist Churches
Annual Support $2,400
---
We exist for the purpose of providing a medium of cooperation and fellowship among independent, fundamental, Baptist Churches of like faith in order to propagate and promote the Gospel of Jesus Christ. Presently we have two hundred and ten churches in the State Association, the majority of which also belong to the General Association of Regular Baptist Churches on the national level.
Ken and Sharon Floyd have served as Executive Ministry Director and Office Manager of the MARBC since 2006, following over twenty-five years in the pastoral ministry. Their last pastorate was at North Park from 1993–2006. They give daily oversight of the association's ministry and travel weekly to share with local churches throughout Michigan in speaking and consulting ministries. Ken assists churches in a variety of practical ministry needs and counsels pastors in areas of ministry and personal need. He leads seminars in local churches regarding pastoral search orientations, pastoral placement, leadership, strategic
planning, stewardship, conflict resolution, and prayer emphasis. Sharon oversees the MARBC office and prayerfully encourages ministry wives. The Floyd's ministry is supported by the prayers of our partners and the financial support of churches and individuals.