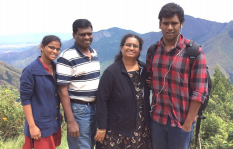 Jonathan and Hannah Victor
Annual Support $3,360
---
We serve the Lord with Baptis Mid-Missions in the city of Madurai in the State of Tamilnadu, India. Our church planting effort, ministry with kids, Bible teaching, training of nationals, camp ministry etc. are mainly in the southern part of India. In terms of our Bible translation ministries, we train and work with Bible translators in the north and northeastern part of India. Our ministry is focused on Tamil people group who belong to the Hindu religion.
Who is on your team? We work under India Field Council of Baptist Mid-Missions in different parts of India. We have five missionary couples, four in the southern region and one in north India.
Where have you seen God working in your ministry? During May of last year, God blessed our VBS program with the opportunity of sharing the gospel to one hundred and thirty children of other faiths. It was a huge success. Hannah continued to meet with these kids on Sunday mornings. Within a few weeks, some religious fanatics came to our campus, verbally abused us and threatened to attack if we continued to meet with the children and adults. At that juncture, we had to make a decision to stop or move forward with this ministry. God gave us the courage and direction to continue and we obeyed Him. Though the number of children in attendance has been reduced, we meet with thirty children regularly on Sundays. This pioneering ministry with children of other faith gives us joy while sharing the love of God. Hannah is teaching the Bible in a systematic manner starting from creation. These kids are exposed to Bible stories and the love of Christ for the first time in their lives. Though the opposition hasn't died down, these precious children participate with enthusiasm and give us hope for a bright future community of young believers in Jesus Christ. Further, in December last year, there was an opening for Hannah to begin a ministry with women in one of the neighboring villages. God allowed the privilege to share the gospel and Christmas story who had never heard it before. God be praised.