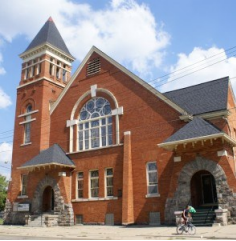 City View Church
Annual Support $1440
---
City View Church is an urban church on the west side of Grand Rapids. The rich diversity of the area makes it an exciting and vibrant place to live and minister. We seek to show the love of God to our neighbors by actively seeking ways to engage and improve the lives of the people around them. We are an inner-city church ministering to residents of the Northwest side of Grand Rapids.

Who is on your team?
Pastors: Cameron Hartman and Troy VanderHule
Outreach Director: Cindy Parney
Deacons: Dave Andrews, Seth Horton, and Keith Parney
Secretary/Clerk: Sue Bynum
Treasurer: Joey Afienko

Where have you seen God working in your ministry? We have seen children and teens come to Christ through New City Kids. Education and spiritual growth through sermons and Bible studies for our church attenders. And we have been able to minister to members of the community through Clothing Closet and Food Programs.