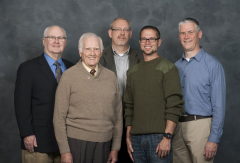 Baptist Builders
Annual Support $120
---
Regular Baptist Builders Club (RBBC) works alongside Regular Baptist churches to assist in four areas of ministry. Start Up (church planting), Build Up (construction projects), Help Up (emergencies), and Disaster Relief (helping local churches minister to their communities after a disaster).
Who is on your team? Our team consists of Michael Nolan (Ministry Director), Kristen Nolan (Administrative Assistant), the board of administrators (Ed Fuller, Dan Mead, Kerry Watkins, Aaron Patton, and Eric Hancock), volunteers that serve at local churches to help with building projects and disasters, and RBBC members and churches that pray and give financially to the ministry.
Where have you seen God working in your ministry? God has worked through Regular Baptist Builders Club in all areas of the ministry over many years, but here are a few of the most recent blessings: In March 2016 sister church Berean Baptist Church, Fort Ashby, W.Va., was the victim of an arson fire, and the building was deemed a total loss. We are currently working alongside this church to assess damages and raise support to help them financially in this emergency situation. In June 2015, Portland, MI, was hit by a devastating tornado. Director Michael Nolan, MARBC Representative Ken Floyd, and First Baptist Church of Lowell, MI, formed a team and headed to Portland to assist First Baptist Church in ministering to and serving their community. The team shared the gospel while helping around fifty community members and neighbors clean up their downed trees and debris. Many expressed their gratitude and couldn't understand why people they didn't even know would take the time to reach out to them.