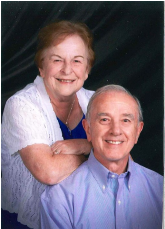 Norman Nicklas
Annual Support $300
---
Evelyn and I retired after forty-four years of service with ABWE in Brazil and North America. We are active in visitation and ministries at Cornerstone Baptist Church, a multi-ethnic church in Harrisburg, PA.
Evelyn serves in the nursery and together we visit and entertain visitors in our home. Every year, I help lead a team of our young people (about twenty) on mission trips. We have spent ten days the last four years in former ABWE church plants in Canada, Miami, New York City, and Chicago. I am leading our church in preparation to build a new church facility. We are currently enlarging our parking lot and developing plans for construction next year. We have an early service, Sunday School, and a second service with a combined total of about 210 (our church holds 145).
We joined the church in 2007 when it had an attendance of around seventy. We have seen it grow to over two hundred regular attenders. We now have six attending Christian colleges preparing for His service. We have almost $70,000 in our building fund. Our choir is growing. Our youth ministry is growing. We purchased two vans for youth and adult miniseries. I led the church in a complete upgrade of our facilities both inside and outside (new siding, door, carpet, playground, and kitchen) We are developing plans for our new building.
I am seventy-four and Evelyn is seventy-five. I am in great health. Evelyn is a diabetic but is keeping it under control. We have three married sons and five grandchildren and one great-grandson. God is good. North Park has supported us since 1968. Thank you for all your prayers and financial support.