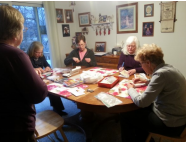 Ladies Missionary Fellowship
Annual Support $360
---
We encourage and pray for every one of our supported, retired, and consortium missionaries each month. We also try to help our active and financially supported missionaries in a tangible way on a regular basis.
Who is on your team? Shirley Chase is our president, leads our meetings and keeps us organized. Beverly Frueh is our vice-president and secretary. She takes notes and leads meetings as needed. Lisa Ellison is our work chairperson and treasurer. She organizes work projects, speakers, and keeps track of funds. Amy Stuart is our encouragement chairperson. She prepares and mails cards to all missionaries for birthdays, anniversaries, Christmas, and other occasions. Angela Carpenter is our prayer chairperson. She condenses all missionary prayer requests to one sheet of paper on a monthly basis.
Where have you seen God working in your ministry? Our missionaries truly appreciate everything we do for them. They tell us often that it is a great encouragement to receive cards, college boxes, be able to pick items from the missionary cupboard, and know that they are being prayed for, especially since there are not many churches with a ladies missionary group any more. It is also encouraging to our church ladies, when the missionary wives come and share with us, to hear about God's work in their lives and be personally encouraged. The inter-generational fellowship is something not often found elsewhere. Angela Carpenter is an answer to our prayers for a new prayer chairperson. We are very thankful for her efforts and willingness to serve in this way!