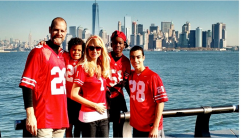 Jon and Kris Shepherd
Annual Support $7,740
---
Through June 2016, we will live and work in the Bay Ridge neighborhood of Brooklyn in New York City, which is home to the largest concentration of Arab Muslims in New York City proper. Especially strategic are the thousands of Yemenis, who represent one of the least reached peoples in the world. We also have worked with Chinese students at NYU-Poly with the gospel. We have hosted many students in our apartment, taken them on ventures in and around the city and studied the Bible. They have shared the stories they've learned with friends and parents in China.
Who is on your team?We work with Global Gates, whose focus is to reach the ends of the earth through global gateway cities. At the end of May, we will complete our year of cross-cultural missions training with the Equip/Immerse program. Currently, our team is composed of us, a single Chinese-American lady, and another couple from Puerto Rico.
Where have you seen God working in your ministry? On Saturdays, I have had three Bible studies with Chinese students. In the beginning, most of the students had never opened a Bible. Since November they have met faithfully with me and have grown in their understanding of Scripture. The students have been obeying the Scripture, praying for each other's needs, and faithfully sharing the stories with parents in China or friends at NYU. A few of the students have told me that they are considering following Jesus, and others sound so much like a believer that it's hard to believe they are not.
We've had so many amazing opportunities to befriend, serve, and share Christ with Muslim peoples. We've gained so much experience in understanding their worldview and culture and in sharing the gospel with them. We have really seen the value of planting your lives among the people, loving them, serving them, and becoming all things to them in order to win some. The primary way God has worked in our lives this year is to confirm that this is the life He has called us to. We love being among the least reached, walking the streets of Brooklyn, serving them in tangible ways, and proclaiming Christ among them. What a privilege to be called to this life! We look forward to spending the rest of our lives engaging and reaching Muslim least reached peoples!