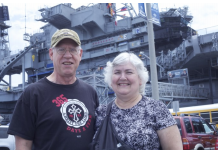 James and Beth Wittenberger
Annual Support $2,940
---
We work with Bibles International (BI), the Bible Society of Baptist Mid-Missions, in Grand Rapids. We are the Translation, Publishing, and Literacy Division of BMM. I am the Information Systems Coordinator and a text editor.
Who is on your team? I work with Birch Champeon to develop short-term and long-term objectives for BI's computer needs to ensure that all project data is secure against fire, theft and accidental erasure. Also, to ensure that preventative maintenance and repair is performed on about thirty computers. I also work with Don Block and Literacy personnel to edit texts (scripture, literacy, translation tools, and others as approved) for format, word, spelling accuracy, and consistency.
Where have you seen God working in your ministry?God is at work through Bibles International in seventeen countries with forty-two languages. This year we completed the Dagaare New Testament (NT) for Ghana, West Africa, with dedication on March 12. Also, the Kaulong NT for Papua New Guinea will have a spring or summer dedication. We have several more Bible texts that are coming to the office for completion this year. The Creole NT for Haiti with Psalms and Proverbs will be sent for printing in South Korea soon.
This summer Beth and I will celebrate twenty-five year at Bibles International and forty years with BMM!