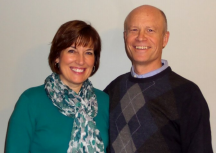 Carl and Lori Kresge
Annual Support $19,260
---
I'm working with SEND International. I am Eurasia Regional Director, responsible for our missionaries who serve in Russia, Ukraine, and Kazakhstan.
Who is on your team? I'm based in Michigan, working out of my office at home. Periodically I spend a couple of days in SEND's headquarters in Farmington, MI. Approximately four times a year I travel to Eurasia. My "team" consists of our International Director and fellow Regional Directors, as well as my Area Directors who live in Eurasia (and our missionaries in Russia, Ukraine, and Kazakhstan).
Where have you seen God working in your ministry? There are two areas of our Eurasia ministry that I'm especially excited about at this point. God has blessed our efforts in Ukraine to facilitate the sending of Ukrainians as cross-cultural missionaries; it's a thrill to see God raise up many Ukrainians with a heart to take the gospel beyond Ukraine, and an increasing number of Ukrainian churches developing a growing heart for the Great Commission. God led us to open up a new work in Russia; this fall we plan to launch a team to a new city, targeting two new unreached people groups. At the end of February, I met with some of the church leadership that we will partner with in this endeavor, and was excited to hear their heart for reaching cross-culturally within their region as well as their new understanding that it will take a very different approach from their traditional methodology to do so.