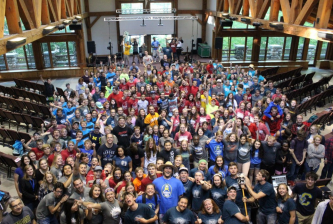 Bill and Sue Spoelhof
Annual Support $480
---
We asked God for three things in our retirement: a warm place to live with no snow, to have at least one of our children living nearby, and a ministry with which we could be involved (as can be seen below, we keep busy serving even in retirement). He answered beyond what we ever expected, and we praise Him for it. Our youngest son Aaron, his wife and three little girls live fifteen minutes away.
Who is on your team? We presently live in southern California and serve in a church that the Lord clearly led us to about two and a half years ago. At Fusion Christian Church, Bill is an associate pastor, he serves as a professor in the Bible Institute, and he teaches a monthly new members class. Sue serves as part-time treasurer in the church; she works with the Women's Ministry. Together we host and lead an in-home Bible study group and have a counseling ministry related to the church. This is a relatively young ministry as well as a smaller church (about one hundred and seventy average attendance for services, but growing). The work we do is voluntary and part-time (as we are "retired").
Where have you seen God working in your ministry? God has been working in great ways. Just since the beginning of 2016 we have seen twenty people accept Christ as Savior. We have regular new believer baptisms, but the neatest one is the annual beach baptism at the ocean, we have each summer. It is a very public testimony and ministry to all the people who are at the beach on a Sunday afternoon. In the last beach baptism, three generations of one family were baptized. The church offers programs for men and women; the youth group has thirty-five teens involved; and children's ministries averages around fifty. As folks become members of the church, we get them involved in volunteer work. About three-fourths of our members serve in some area of church ministry. Outreach ministries we have our people involved in are monthly mission projects both locally (like feeding the homeless or serving in Bible clubs in schools) and working with a church in Tijuana, Mexico (helping in an orphanage, homeless shelter and drug clinic).