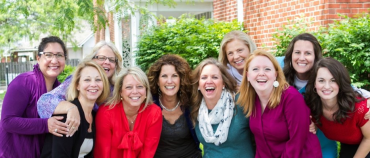 Alpha Women's Center of Grand Rapids
Annual Support $660
---
Alpha Women's Center walks alongside women who are experiencing challenging circumstances, such as an unplanned pregnancy, by providing a safe place to make choices. AWC empowers women to thrive by offering holistic care through free and confidential services.
Who is on your team? AWC partners with over twenty churches as well as many individuals and corporations in the greater Grand Rapids community. Partnership involves prayer, volunteering, or Partner for Life teams. Our prayer team receives weekly prayer requests through email. Some churches bring groups once each month to pray over the facility. There are over fifteen different volunteer roles including mentoring, teaching, childcare, sorting inventory, and more. Our next training begins April 25. Call 616-742-0242 for more information. Partner For Life is supporting AWC through monthly donations.
Where have you seen God working in your ministry? We see God working in many miraculous ways every day. Check out stories at alphawc.org. Pregnancy Center: we see God changing the hearts of women as they choose life after receiving an ultrasound by one of our compassionate professionals. Educational Services: we see women grow in knowledge and independence through classes on parenting, GED, ESL or pregnancy education, all which introduce people to Jesus, changing the cycle of poverty and addiction. Material Resources: we see God meet the tangible needs of women as they endeavor to grow and change. Fatherhood Center: coming soon, we will invest more into the lives of fathers to impact this generation for Christ.